Sustainable tourism is not merely a fad; rather, it is a growing concern for today's traveler. Because consumers are becoming more aware of environmental issues and more travelers are making decisions based on climate concerns, there is more pressure on hotels to run their businesses in a way that is good for the environment.

Many are already making progress that is worthy of praise. For instance, the UK-based InterContinental Hotels Group (IHG) developed the Green Engage system, and the United States-based Wyndham Hotels & Resorts has published its second annual Environmental, Social, and Governance (ESG) report. Both of these initiatives were undertaken by the respective hotel chains and show a considerable investment in environmentally friendly hotel operations.

However, hotels are some of the structures that use the most energy; in most hotels, heating, air conditioning, and lighting account for more than sixty percent of the hotel's total energy use.

There is a lot more that can be done to optimize their usage of energy to support sustainability goals as well as enhance the experience that they provide for their guests.
Implementing 21st Century Smart Systems to Minimize Energy Footprint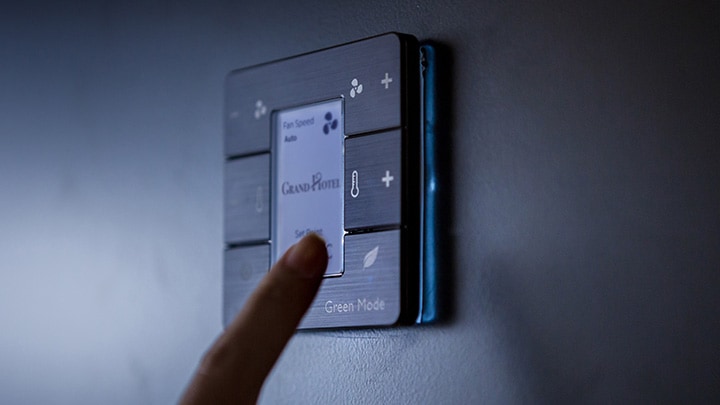 Several new methods of energy management are becoming popular with premium properties. The use of key card systems is becoming increasingly common in hotels as a method for reducing their overall energy use. The process of turning the power on and off in a room is quite straightforward: a visitor or member of the staff just inserts the key card into the slot and then removes it to turn off the electricity. However, it is not completely dependable because guests can misplace their key cards, and employees can forget to remove them from their lockers when they are getting ready for new guests.

Through the elimination of legacy processes and the implementation of automated energy hardware and applications, hotel owners and operators can realize increased power savings across their properties.
Integrating a smart connected lighting system with an existing Property Management System (PMS) such as Mews allows the systems to communicate with one another and share data via a single network. For instance, it can use reservation data to comprehend the context of a room and flip between deep-energy savings and guest-ready states, returning a room's lights and air conditioning to their default settings in preparation for the subsequent visit.


When visitors arrive at the hotel, the room can be programmed to automatically increase the amount of light, pre-cool or heat up to the desired temperature, open window curtains, and turn on a welcome television screen to meet and greet the guests.

Guests can have complete control over the settings in their room while they are staying there, allowing them to tailor the experience to their individual preferences; but, after they check out, the system reverts to a more energy-efficient state. It brings the temperature down, turns out the lights, and draws the curtains to ensure that each room only uses energy when and where it is required, maximizing the amount of money saved.
Using Data to Drive Energy Decisions

Are you familiar with the amount of energy that a hotel uses in a single hour, a single day, or even a single year? Connected lighting systems can assist building owners in visualizing and tracking their energy consumption, which can help them find potential areas for cost savings.

For instance, past data can be utilized to further streamline the operations of the heating and cooling systems. Facility managers are able to apply data on how guests use and personalize room settings in order to make better educated judgments on their defaults. This allows them to set a more comfortable temperature in each individual room.

In addition to having the ability to sense the surroundings and the number of occupants present, the system can also detect natural sunshine or movement via doorways, respectively, and then alter the temperature of the room's heating or cooling system or the smart window blinds accordingly.

In the future, sensors may be set to input the huge amounts of information that they collect into cloud-based apps powered by artificial intelligence. The goal of these applications is to uncover patterns and correlations that further optimize energy usage.
Modern Guest Experiences
A connected lighting system is another factor that can significantly contribute to improving the overall experience of hotel guests.

Nearly 45% of overnight guests follow the custom of leaving the light on in the bathroom so they can find their way in the dark in the event that they wake up later. Not only does this contribute to the usage of energy, but it also has the potential to alter the environment in which one sleeps.

Guests staying in rooms equipped with smart controls have the ability to turn off the master light switch located by their bed and turn on nightlight sensors. If a guest needs to get up in the middle of the night to use the restroom or obtain a drink, occupancy sensing technology will turn on low-level lighting to guide them to their destination. As soon as the guest returns to bed, the lights will gradually fade to darkness.

Powered by Signify's Interact Hospitality system, these features help businesses like Swissôtel the Stamford, a top rated business hotel in Singapore, give their guests an exceptional experience.
The hotel room-management system is designed around the concept of the Internet of Things, featuring autonomous lighting once guests enter the room and easy access to request various services such as laundry and catering. 
A smart system also lets hotel staff know if a room is occupied and helps them respond quicker to guest requests, providing useful information to improve the guest experience, optimize operations, and save energy. It also supports the hotel's commitment to energy efficiency and sustainability, along with its reputation for comfort, elegance, and style. 
"As a hotel catering for the next generation, we're constantly looking for ways to improve how we manage our hotels and deliver new value for our guests," Swissôtel The Stamford hotel manager Katya Herting said in a statement. "This new system helps us to improve levels of service even further and gives our managers a 360-degree overview of our operations across the entire hotel. This technology is helping us to eliminate unnecessary work for our staff while enabling them to service guest requests in record time."

It is even possible to synchronize the light levels and color temperatures with the time of day in order to promote the guests' natural day-night rhythm, also known as the circadian rhythm, and enhance their wellbeing.

Smart lighting and controls can be programmed to function just like a conventional alarm clock, waking guests with a simulation of the sunrise. This feature can be especially useful for guests who have traveled across multiple time zones because it allows them to reset their internal clock to the local time, thereby reducing the effects of jet lag on their bodies.
Guiding the transformation toward a brighter future.

More and more travelers are looking for lodging options that practice environmentally responsible operations. This can be accomplished by hotels through the use of connected lighting technology, which gives a platform for doing so. These solutions make it much easier to reduce energy consumption and contribute to the achievement of sustainability goals without compromising what is most important—the level of comfort provided to visitors.